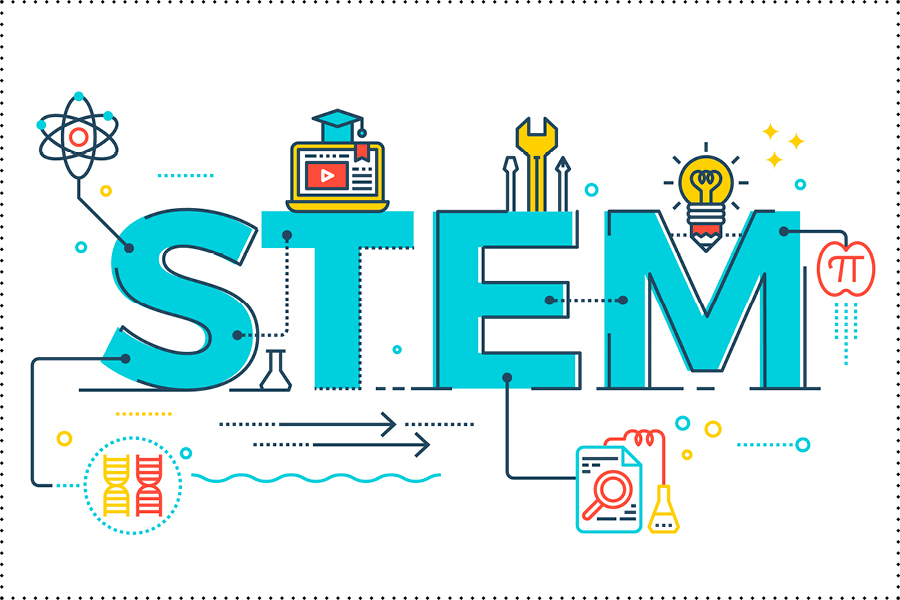 A growing number of important occupations in the 21st century will make use of the practices of scientific analyses, argumentation, communication, and engineering design. Providing a high quality science and engineering foundation for all K-12 students will remove some of the barriers that prevent them from pursuing careers in science, technology, engineering, mathematics and medicine. Our titles provide guidance for monitoring educational equity, implementing and assessing teaching of new science standards, integrating engineering education in curriculum, and providing professional education experiences to support teachers' learning. All are free to download or read online.
Disparities in educational attainment among population groups have characterized the United States throughout its history. Education is sometimes characterized as the "great equalizer," but to date, the country has not found ways to successfully address the adverse effects of socioeconomic …[more]
Teaching K-12 Science and Engineering During a Crisis
The COVID-19 pandemic is resulting in widespread and ongoing changes to how the K-12 education system functions, including disruptions to science teaching and learning environments. Students and teachers are all figuring out how to do schooling differently, and districts and states are working …[more]
Building Capacity for Teaching Engineering in K-12 Education
Engineering education is emerging as an important component of US K-12 education. Across the country, students in classrooms and after- and out-of-school programs are participating in hands-on, problem-focused learning activities using the engineering design process. These experiences can be …[more]
Cultivating Interest and Competencies in Computing: Authentic Experiences and Design Factors
Computing in some form touches nearly every aspect of day to day life and is reflected in the ubiquitous use of cell phones, the expansion of automation into many industries, and the vast amounts of data that are routinely gathered about people's health, education, and buying habits. Computing …[more]
Science and Engineering for Grades 6-12: Investigation and Design at the Center
It is essential for today's students to learn about science and engineering in order to make sense of the world around them and participate as informed members of a democratic society. The skills and ways of thinking that are developed and honed through engaging in scientific and engineering …[more]
English Learners in STEM Subjects: Transforming Classrooms, Schools, and Lives
The imperative that all students, including English learners (ELs), achieve high academic standards and have opportunities to participate in science, technology, engineering, and mathematics (STEM) learning has become even more urgent and complex given shifts in science and mathematics …[more]
Design, Selection, and Implementation of Instructional Materials for the Next Generation Science Standards: Proceedings of a Workshop
Instructional materials are a key means to achieving the goals of science education—an enterprise that yields unique and worthwhile benefits to individuals and society. As states and districts move forward with adoption and implementation of the Next Generation Science Standards (NGSS) or work …[more]
Seeing Students Learn Science: Integrating Assessment and Instruction in the Classroom
Science educators in the United States are adapting to a new vision of how students learn science. Children are natural explorers and their observations and intuitions about the world around them are the foundation for science learning. Unfortunately, the way science has been taught in the …[more]
Guide to Implementing the Next Generation Science Standards
A Framework for K-12 Science Education and Next Generation Science Standards (NGSS) describe a new vision for science learning and teaching that is catalyzing improvements in science classrooms across the United States. Achieving this new vision will require time, resources, and …[more]
Science Teachers' Learning: Enhancing Opportunities, Creating Supportive Contexts
Currently, many states are adopting the Next Generation Science Standards (NGSS) or are revising their own state standards in ways that reflect the NGSS. For students and schools, the implementation of any science standards rests with teachers. For those teachers, an evolving understanding about …[more]
STEM Integration in K-12 Education: Status, Prospects, and an Agenda for Research
STEM Integration in K-12 Education examines current efforts to connect the STEM disciplines in K-12 education. This report identifies and characterizes existing approaches to integrated STEM education, both in formal and after- and out-of-school settings. The report reviews the evidence …[more]
Monitoring Progress Toward Successful K-12 STEM Education: A Nation Advancing?
Following a 2011 report by the National Research Council (NRC) on successful K-12 education in science, technology, engineering, and mathematics (STEM), Congress asked the National Science Foundation to identify methods for tracking progress toward the report's recommendations. In response, the …[more]
Next Generation Science Standards: For States, By States
Next Generation Science Standards identifies the science all K-12 students should know. These new standards are based on the National Research Council's A Framework for K-12 Science Education. The National Research Council, the National Science Teachers Association, the …[more]
A Framework for K-12 Science Education: Practices, Crosscutting Concepts, and Core Ideas
Science, engineering, and technology permeate nearly every facet of modern life and hold the key to solving many of humanity's most pressing current and future challenges. The United States' position in the global economy is declining, in part because U.S. workers lack fundamental knowledge in …[more]
Engineering in K-12 Education: Understanding the Status and Improving the Prospects
Engineering education in K-12 classrooms is a small but growing phenomenon that may have implications for engineering and also for the other STEM subjects–science, technology, and mathematics. Specifically, engineering education may improve student learning and achievement in science and …[more]