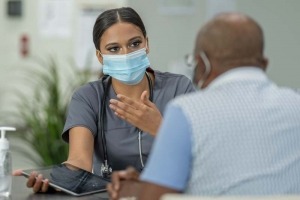 Patient-centered, high-quality health care relies on the well-being, health, and safety of health care clinicians. Our publications explore the wide array of settings and practice of the healthcare workforce and provide guidance on workplace policies and programs that support these essential workers. All are free to read online or download.
National Plan for Health Workforce Well-Being [more]
The National Imperative to Improve Nursing Home Quality: Honoring Our Commitment to Residents, Families, and Staff
Nursing homes play a unique dual role in the long-term care continuum, serving as a place where people receive needed health care and a place they call home. Ineffective responses to the complex challenges of nursing home care have resulted in a system that often fails to ensure the well-being and safety of nursing home residents. The …[more]
Understanding the Aging Workforce: Defining a Research Agenda
The aging population of the United States has significant implications for the workforce – challenging what it means to work and to retire in the U.S. In fact, by 2030, one-fifth of the population will be over age 65. This shift has significant repercussions for the economy and key social programs. Due to medical advancements and public health …[more]
The Future of Nursing 2020-2030: Charting a Path to Achieve Health Equity
The decade ahead will test the nation's nearly 4 million nurses in new and complex ways. Nurses live and work at the intersection of health, education, and communities. Nurses work in a wide array of settings and practice at a range of professional levels. They are often the first and most frequent line of contact with people of all backgrounds …[more]
Are Generational Categories Meaningful Distinctions for Workforce Management?
Headlines frequently appear that purport to highlight the differences among workers of different generations and explain how employers can manage the wants and needs of each generation. But is each new generation really that different from previous ones? Are there fundamental differences among generations that impact how they act and interact …[more]
Taking Action Against Clinician Burnout: A Systems Approach to Professional Well-Being
Patient-centered, high-quality health care relies on the well-being, health, and safety of health care clinicians. However, alarmingly high rates of clinician burnout in the United States are detrimental to the quality of care being provided, harmful to individuals in the workforce, and costly. It is important to take a systemic approach to …[more]
A Framework for Educating Health Professionals to Address the Social Determinants of Health
The World Health Organization defines the social determinants of health as "the conditions in which people are born, grow, work, live, and age, and the wider set of forces and systems shaping the conditions of daily life." These forces and systems include economic policies, development agendas, cultural and social norms, social policies, and …[more]
Graduate Medical Education That Meets the Nation's Health Needs
Today's physician education system produces trained doctors with strong scientific underpinnings in biological and physical sciences as well as supervised practical experience in delivering care. Significant financial public support underlies the graduate-level training of the nation's physicians. Two federal programs—Medicare and …[more]
Resident Duty Hours: Enhancing Sleep, Supervision, and Safety
Medical residents in hospitals are often required to be on duty for long hours. In 2003 the organization overseeing graduate medical education adopted common program requirements to restrict resident workweeks, including limits to an average of 80 hours over 4 weeks and the longest consecutive period of work to 30 hours in order to protect …[more]