During a bad storm in the Detroit area in August, an estimated 4.5 billion gallons of sewage entered the water supply when the combined sewer systems overflowed. Such overflows can pose a risk to human health and aquatic life as they send chemicals and untreated sewage straight into the nearest body of water.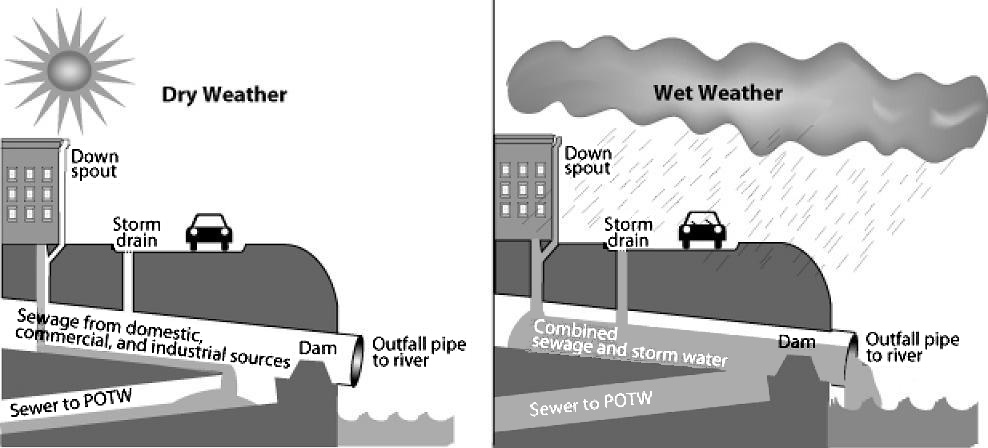 This diagram from the EPA shows how combined sewer systems can overflow during heavy rain
Traditionally, local governments and regulatory agencies have favored "gray infrastructure," which includes sewer separation, storage tunnels, and additional treatment units. However, the cost of building an infrastructure with sufficient capacity to avoid CSO's during unusually large storm events can exceed the point of commensurate benefits, such as the amount of risk reduction expected over a certain period.
As an alternative approach, the EPA is starting to encourage "green infrastructure" — methods such as constructed wetlands, rainwater harvesting, and pervious or porous pavements — to provide a wider range of benefits to the community and the environment. Green infrastructure can also help air pollution, energy use, habitat connectivity, and even the economy.
The recent NRC report Sustainability Concepts in Decision-Making examines scientific tools and approaches for incorporating sustainability concepts into assessments used to support EPA decision making. Committee Chair Mike Kavanaugh explains, "As discussed in the committee's report, consideration of the benefits of green infrastructure as part of CSO control planning for the long-term is one of many ways in which EPA and other government agencies can incorporate sustainability concepts into decision-making."
Further explore sustainability with these reports from the National Research Council. All are free to download.