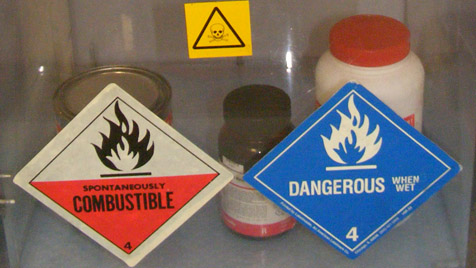 Photo credit: Keck Graduate Institute
In June of this year, five years after the UCLA laboratory fire that claimed the life of a staff research assistant, the case against organic chemistry professor Patrick Harran came to an end.
The fire started when Sheharbano Sangji's plastic syringe broke and exposed a volatile chemical to the air. Without a protective lab coat, she suffered severe burns and died 18 days later. UCLA and Sangji's supervisor, Harran, were held accountable for the accident, though the charges against UCLA were dropped in 2012.
Now, the charges against Harran will be dismissed thanks to the deferred prosecution agreement. Part of the agreement includes speaking to new UCLA students about the importance of lab safety.
The UCLA accident was not an isolated incident. In January 2010, a Texas Tech graduate student was severely injured in a laboratory explosion. He had neglected several safety precautions, including the use of a blast shield and personal protective wear. Just over a year later, in April 2011, an undergraduate student was killed in Yale's laboratory machine shop. She was asphyxiated when her hair became tangled in a lathe.
These accidents — and others like them — highlight the need for improved lab safety. But enforcing compliance to a series of increasing regulation can only go so far in protecting researchers. Academic laboratories need a better, more permanent solution. That solution is to adopt a culture of safety:
A culture of safety in academic laboratories that transcends inspections, standard operating procedures, and chemical safety plans. A true safety culture represents a total commitment to achieving safety even in the absence of specific rules or other regulatory guidance. It means making safety a ongoing operational priority.
That's what the National Research Council recommends in its new report, Safe Science: Promoting a Culture of Safety in Academic Chemical Research. The report's recommendations challenge many longstanding ideas about chemical research, and ask for a fundamental shift in how we approach lab safety. Adopting a culture of safety is the best way to mitigate the inherent dangers of the laboratory and to protect our researchers.
To read the report, visit Safe Science's page on our website.